Erin Lewis-Fitzgerald
Maker + mender in Melbourne, Australia
What's new in 2022
---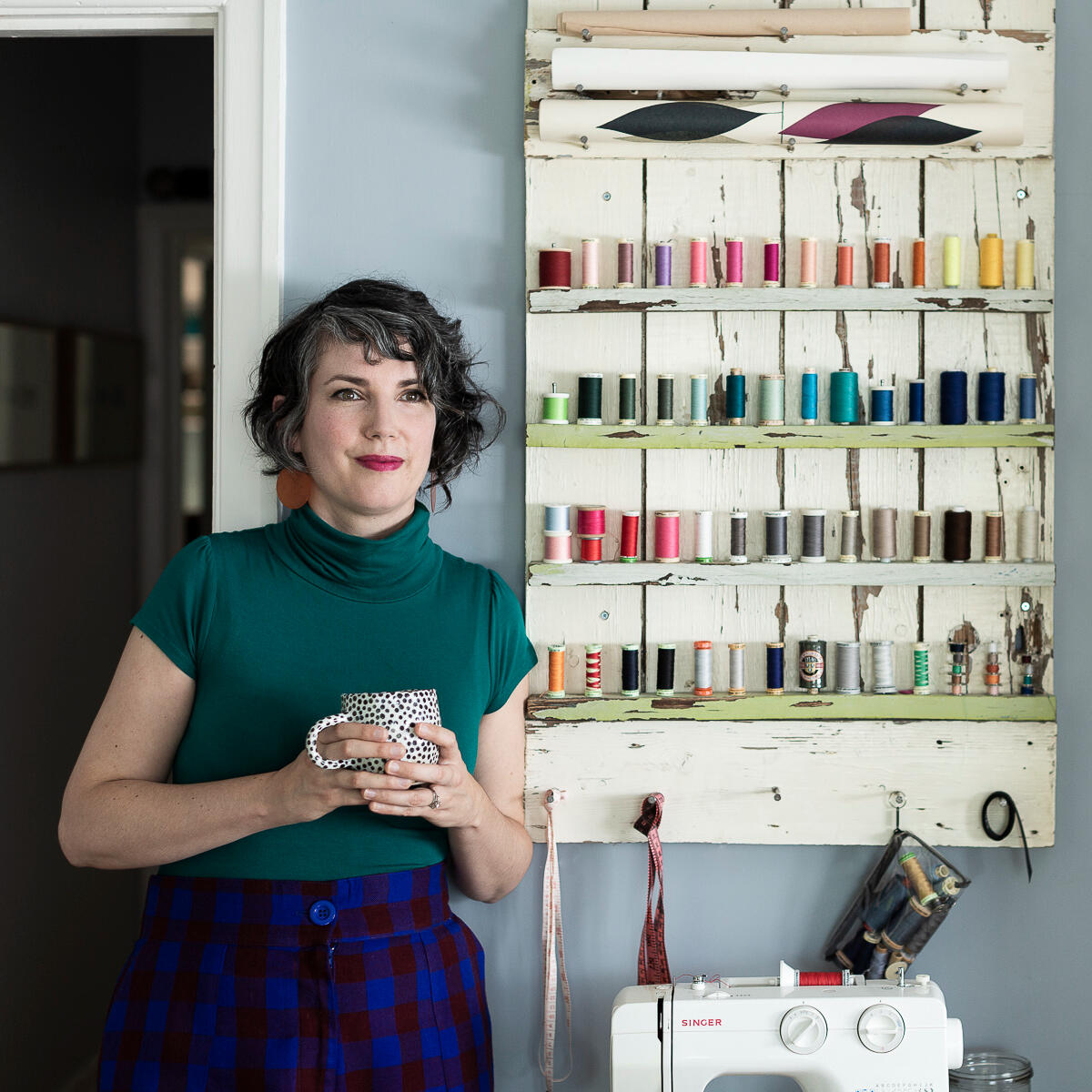 Hello!Since becoming a mom/mum in 2021, I spend most of my kid-free time running my mending-supply shop at modernmending.com, and battling the constant clothing holes and stains that small people create.I'm not booking mending workshops or accepting mending commissions at this time, but I am accepting some speaking engagements (contact me for speaking requests).To find out when I'll be teaching, mending or speaking next, sign up to my mailing list for updates. Newsletter subscribers always find out first!
Bright Sparks
In 2014 I founded Bright Sparks, a not-for-profit social enterprise that reused and repaired small appliances to keep them out of landfill, and was the managing director from 2014-2019. Read our story.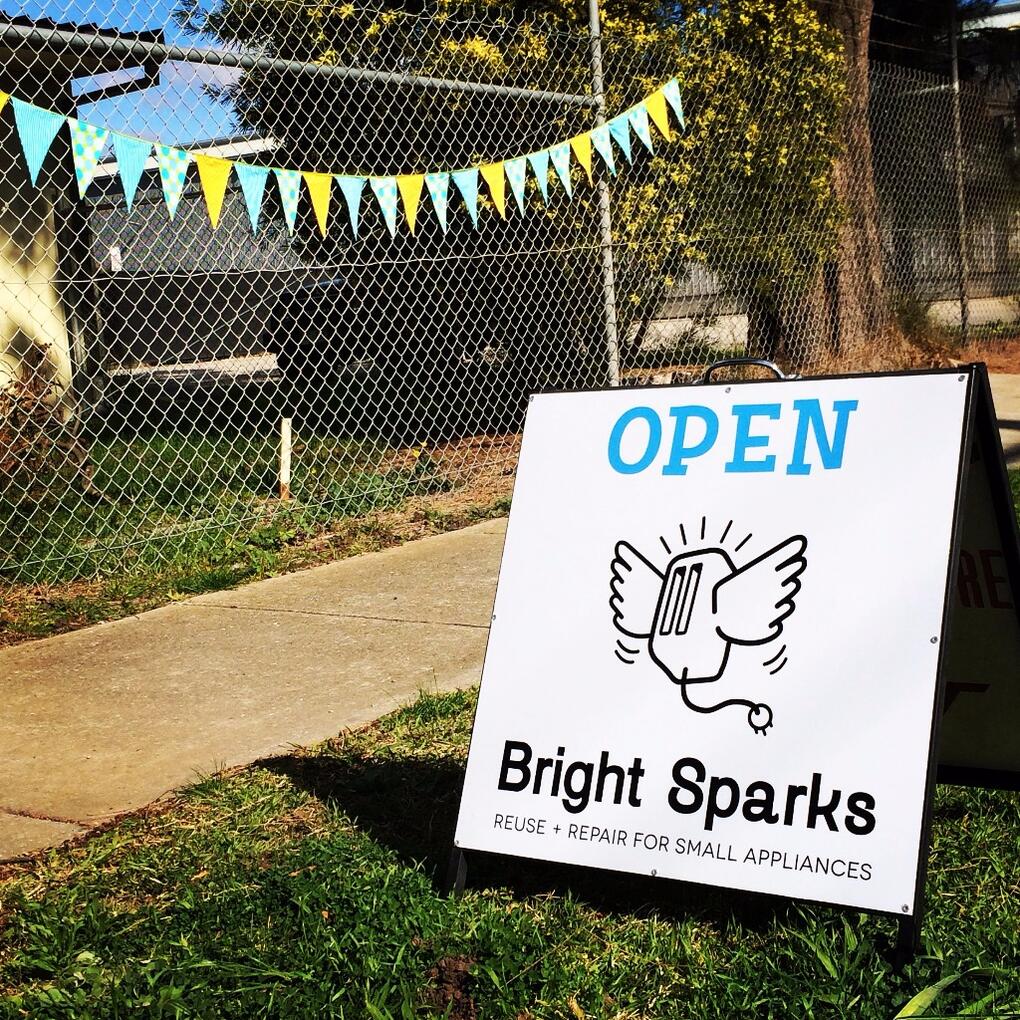 Communication specialist
NOTE: I'm not taking new clients at this time.I'm the author and photographer of the book Modern Mending, and shopkeeper, copywriter and photographer at modernmending.com.I have 20 years of journalism experience, most recently as editor of Slow magazine (2017).I'm a communication specialist, producing nice words, photographs, videos, newsletters, social media posts, websites and brochures for corporates and not-for-profits. But my best trick is editing other people's content and making it sparkle.View my CV here and some of my handiwork here: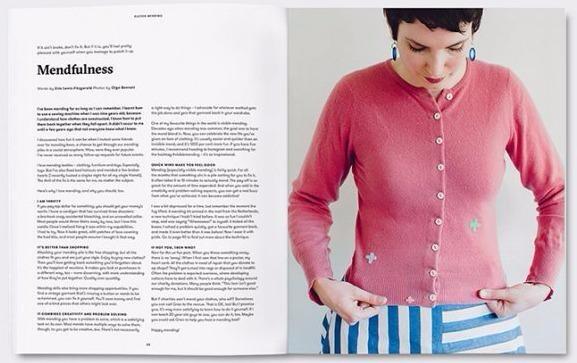 Modern Mending

I'm the author of Modern Mending, first published by Affirm Press in February 2020 (second edition released February 2021).Modern Mending German edition Geschickt Geflickt was released March 2021 by Stiebner Verlag. Modern Mending UK and US editions were released May and June 2021 through Search Press.I've been making and mending clothes since childhood. I'm passionate about mending as a way to make things better than new, and beautiful, colourful repairs that start conversations about our relationship with stuff.Follow me on Instagram to see new work, or search #RemadeByELF for previous examples.

Shop: I'm the shopkeeper at modernmending.com, a magical mending supply shop with the best selection of mending tools and materials anywhere, and signed copies of my book. You can follow the shop on Instagram @modernmending and on Facebook.Workshops + commissions: I am not booking mending workshops or taking mending commissions at this time. But you can learn how to mend your clothes with my book Modern Mending! At 272 pages, it's the most comprehensive mending book available today.Search #RemadeByELF on Instagram to see examples of my previous commissions.And sign up to my mailing list to find out when I'll be teaching again.Community: I volunteer with Darebin Repair Cafe, offering free mending advice and guidance to help you get started. And my Facebook group Modern Mending Club is a great way to crowdsource mending advice and get some mend-spiration.Read about my mending practice
- Modern Mending, my book
- Modern Mending: the book we need right now, The Australian
- Giving clothes a second chance at life, Sunday Star-Times
- Slowing down fast fashion, The Age / Sydney Morning Herald / Brisbane Times
- Not too shabby: what will it take to make secondhand clothes mainstream?, The Guardian
- Shop less, mend more: making more sustainable fashion choices, The Guardian
- The rise of the tinkerers: how DIY activists are making their own way, The Age
- The new share market: introducing the new share and repair movement, RoyalAuto magazine
- Visible Mending, Renew magazine
Workshops
I'm not booking any new workshops at this time. Subscribe to my mailing list to hear about new workshops first.
Talks
I'm an experienced public speaker and love sharing my passion with TV and online viewers, radio and podcast listeners and conference audiences.Get in touch for interview and speaking requests.Watch me on screen
- A fun talk on the theme of 'procrastinate' for Creative Mornings Melbourne, April 2021
- More Than Words, a behind-the-scenes talk on how I made my book Modern Mending, September 2020
- Material Gain, Compass, ABC TV, May 2020
- Mending time has arrived, interview with Jane Milburn of Textile Beat, May 2020
- Modern Mending, interview with Jen Gale at the Sustainable(ish) Online Festival, May 2020
- I demonstrated a few darning techniques for the Search Press Virtual Art and Craft Spring Festival, May 2021.For your listening pleasure
- Check Your Thread podcast: episodes 39 (part 1) and 40 (part 2)
- ABC Radio, Overnights with Trevor Chappell: October 2021
- ABC Radio National, Blueprint for Living: June 2021 and May 2020
- 3RRR-FM, The Grapevine: January 2021 and March 2020
- PodCraft podcast #3, October 2020
Testimonials
Click here for workshop testimonials from my students.
..."A big thank you to Erin for joining our series of online sessions for our community. She was a wealth of knowledge, but what made it so amazing was the method of presentation, full of warmth, passion and lots of humour, really made the topic engaging and achievable for those watching at home. I know I am inspired to get my mend on, and from the community's feedback so are they."
--Melissa Brown, Community Engagement Librarian (Sustainability), Hobsons Bay City Council"A massive THANK YOU for helping make our first Sustainable Fashion Week event a success. The ladies who attended your workshop have got in contact with me to say how much they absolutely loved it and were so excited to learn these new skills. I am personally so into the felting now, I can't wait to decorate my jumper with all the dots! It was such a great workshop and I wanted to thank you for all your hard work getting it organised. You were so professional, so organised and it has been a pleasure to have you as a part of this event."--Louise Salt, Engagement Officer, Grampians Central Western Waste and Resource Recovery Group