Erin Lewis-Fitzgerald
Maker and re-maker of fun things
MELBOURNE, AUSTRALIA
Bright Sparks
I'm the founder and managing director of Bright Sparks, a not-for-profit social enterprise that reused and repaired small appliances to keep them out of landfill. Read our story.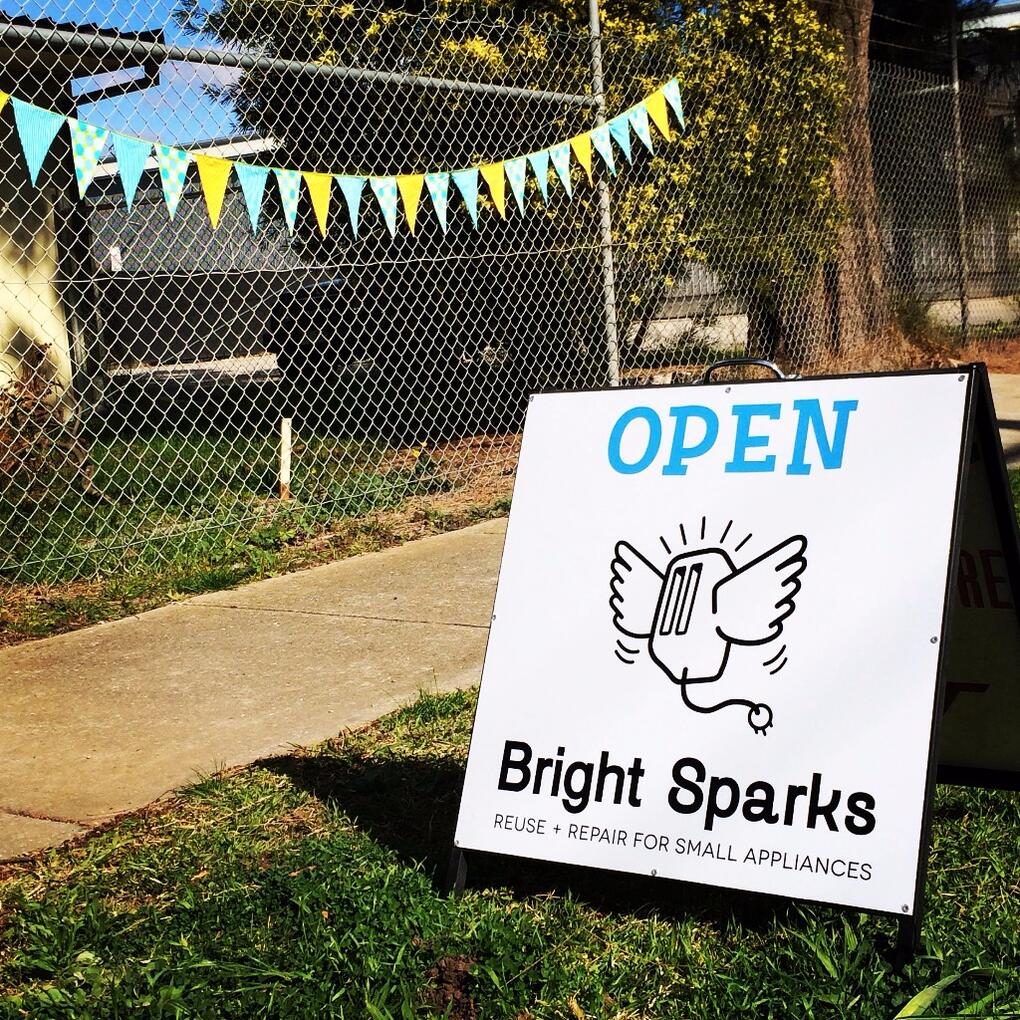 Communication specialist
I have 20 years of journalism experience, most recently as editor of Slow magazine. I produce nice words, photographs, videos, newsletters, social media posts, websites and brochures for corporates and not-for-profits, but my best trick is editing other people's content and making it sparkle.

Note: I'm at full capacity with my copywriting and editing work and not taking on any new clients in 2018.

View my CV here and some of my handiwork here:
Mender extraordinaire
I've been making and mending clothes since childhood. I'm passionate about visible mending — beautiful, colourful repairs that start conversations about our relationship with stuff — and making things better than new.

Follow me on Instagram to see new mending commissions, or search for #remadebyELF to see previous examples.

Read more about my mending practice:
Meet the Re-Maker, Jake + MayaShop less, mend more: making more sustainable fashion choices, The GuardianThe rise of the tinkerers: how DIY activists are making their own way, The AgeHandle With Care exhibition catalog, June 2018
Commissions: You can hire me to visibly and creatively mend your clothes or other textiles; email me with a photograph of your item for a quote.

Workshops: I teach mending workshops around Australia. View my schedule to see what's coming up, subscribe to my mailing list to hear about new workshops first, or get in touch if you'd like me to teach in your town.
Testimonials:
"A massive THANK YOU for helping make our first Sustainable Fashion Week event a success. The ladies who attended your workshop have got in contact with me to say how much they absolutely loved it and were so excited to learn these new skills. I am personally so into the felting now, I can't wait to decorate my jumper with all the dots! It was such a great workshop and I wanted to thank you for all your hard work getting it organised. You were so professional, so organised and it has been a pleasure to have you as a part of this event."
--Louise Salt, Engagement Officer, Grampians Central Western Waste and Resource Recovery Group

"Thank you so much for an incredible class! I am so inspired and have already volunteered (eek!) to mend some friends' clothes."
--Mending masterclass student, 2018

"I loved this course. It gave me lots of techniques and inspiration for mending clothes in a creative and practical way."
--Mending masterclass student, 2018

"The course was really well balanced and certainly delivered on its description, I definitely feel I could/can mend my own clothes – now just to find the time. Erin was a great teacher and helped develop a great group dynamic. Thanks for the new skills. The course was also excellent value."
--Mending masterclass student, 2018

"Erin has a wonderful positive approach and makes everyone feel like they can achieve."
--Mending masterclass student, 2018

"Erin was very generous with her time and knowledge. It was great to hear about her philosophy, experiences, and see examples of her work. She was also excellent at encouraging everyone's projects."
--Mending masterclass student, 2018